When you've got a vehicle that's immobile and needs to be moved, it pays to call a towing service in Oklahoma City, Del City, Moore, and Norman, OK that can do it all.
At Puckett's Inc., you'll never have to wonder if we can help—our full breadth of capabilities guarantees we can! Take a look at the many ways we can assist you with tow services: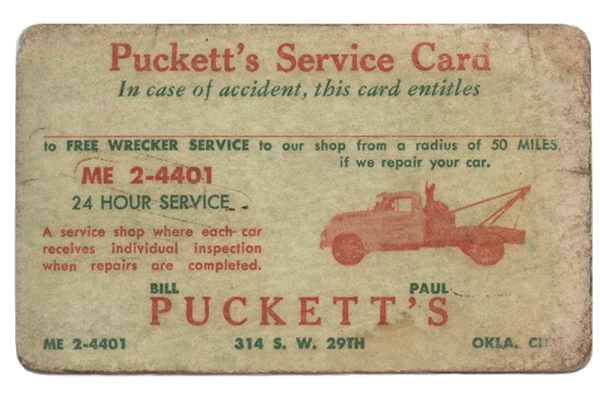 *Our business card from 1957
Law enforcement towing

We're always on-call for law enforcement towing and have experience in providing service for a wide range of situations. Contact us knowing that we'll arrive quickly, remove the vehicle safely and get it towed to the proper destination without incident. We take pride in working alongside the men and women who serve our city!

Light-duty towing service

Our fleet is equipped with both rollback and wheel-lift towing vehicles, allowing us to safely remove most light-duty vehicles as-needed. We've got experience towing sedans, motorcycles, light-duty trucks, SUVs and more. We'll make sure your vehicle is handled with care and safely transported.

Medium-duty towing service

For larger trucks and fleet vehicles, we're the ones to call! Our experienced team works to properly hitch up your larger vehicles and get them safely transported away from the tow site quickly.

Private property impounds

Unlike other towing companies, we're equipped to handle private property impounds, according to OS Section 954A. We've worked with law enforcement and private property owners/possessors to properly remove trespassing or abandoned vehicles in accordance with proper mandates.

Auto wrecker services

Stuck in a ditch? Can't drive away from the scene of an accident? Give our auto wrecker service a call to get the assistance you need in relocating your vehicle. We can extract you from your current situation and tow you to a local repair shop where your vehicle will get the attention it needs. Our capabilities include winch-out services.

Commercial towing

Is your fleet vehicle stranded on the side of the road? Waste no time in calling us for commercial towing in Oklahoma City, OK. We'll arrive quickly and make sure your commercial vehicle is properly assessed and transported to a repair shop or private garage.

Automotive lockout service

Have you locked your keys in your vehicle? Before you resort to anything drastic, contact us for automotive lockout service. We'll get your doors open with no damage to your vehicle, so you can get back behind the wheel and back on the road in no time at all.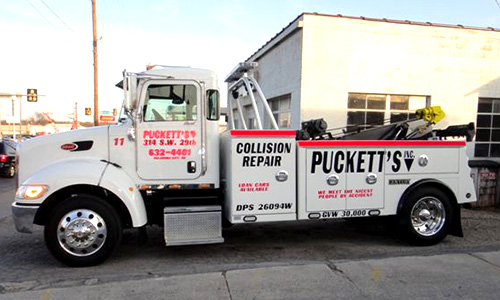 Need a Tow? Give us a Call!
If you've got a vehicle that needs tow service, contact Puckett's Inc. right away with confidence. We're the best in the business and we do it all, from winch-out services and impounding to commercial towing and law enforcement towing! Reach us today at 405-632-4401.
Contact Us Today!
Printable Forms & Documents
We want to help to get your vehicle back to you
Call us immediately @ (405) 632-4401 to start the process.
Your vehicle will begin to accrue storage charges as soon as it arrives at our impound facility. The cost to claim your impounded vehicle will increase each day it is in our custody. To redeem or access the vehicle, the registered owner must present the following:
1) Proof of Ownership – Title, or Registration only. We cannot accept bill of sale as proof of ownership. Any tag agent can help you with this for a nominal fee. An insurance verification is not acceptable as Proof of ownership.
2) Valid government issued photo identification that matches the name on the ownership document.
3) If vehicle is impounded by OCPD and the tag is expired you will need to update the license tag prior to taking the vehicle from the lot. If the title is not updated and is over 30 days old, you will need to bring title up to date to gain access to vehicle.
4) All general redemptions or access of vehicles must present items 1 – 3 above and must be presented in person.
5) To drive the vehicle off the lot you must present a current valid liability insurance verification form (OKC Ordinance).
6) If a vehicle has a law enforcement HOLD, you may not have any access to the vehicle until the HOLD is released. Then the Impoundment rules/laws apply.
7) Bring payment for all monies due in cash. We DO NOT accept checks. Most major credit/debit cards accepted. Card must be present in office.
Please Note:
An after-hours fee will be applied for service after normal office hours.
AFTER 30 DAYS FROM THE IMPOUND DATE VEHICLE FORECLOSURE WILL OCCUR UNDER OKLAHOMA STATUTES, TITLE 42 § 91A AND YOU WILL LOSE THE RIGHT TO CLAIM THE VEHICLE. HOWEVER, IN ACCORDANCE WITH OKLAHOMA STATUTES, TITLE 42 § 91A YOU WILL STILL OWE ANY REMAINING BALANCE DUE FOR LAW ENFORCEMENT TOWING AND STORAGE AFTER DISPOSAL OF THE VEHICLE.